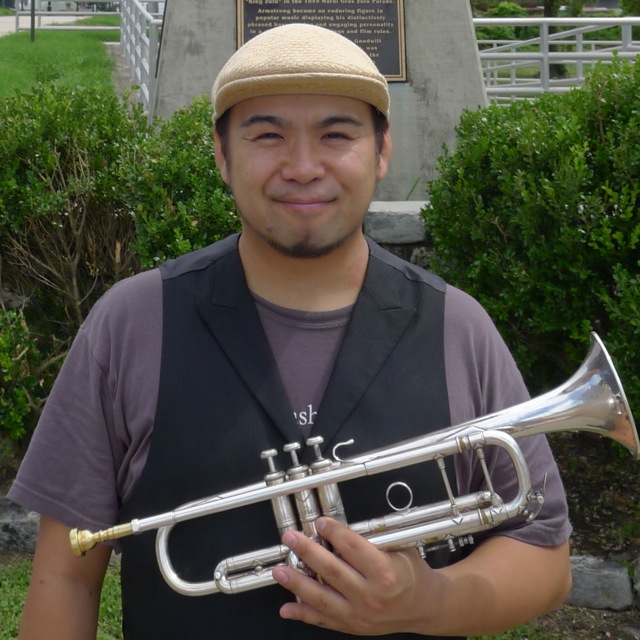 Satoru's Pics from Gigs & Life

by satorun0084
trumpet player & composer in New York and the former New Orleans resident, US. Originaly from Miyagi, Japan.

大橋諭=トランペット奏者/作曲家。現在アメリカ、ニューヨークのクィーンズ在住。元ニューオリンズ住民。宮城県出身。

E-mail
sohashi1@hotmail.com

カテゴリ
全体
音楽
未分類
以前の記事
2011年 10月
2011年 09月
2011年 08月
2011年 02月
2007年 08月
2007年 07月
2007年 06月
2006年 09月
2006年 06月
2006年 02月
2006年 01月
2005年 12月
2005年 08月
2005年 07月
2005年 06月
2005年 05月
2005年 04月
2005年 03月
2005年 02月
その他のジャンル
ファン
記事ランキング
ブログジャンル
画像一覧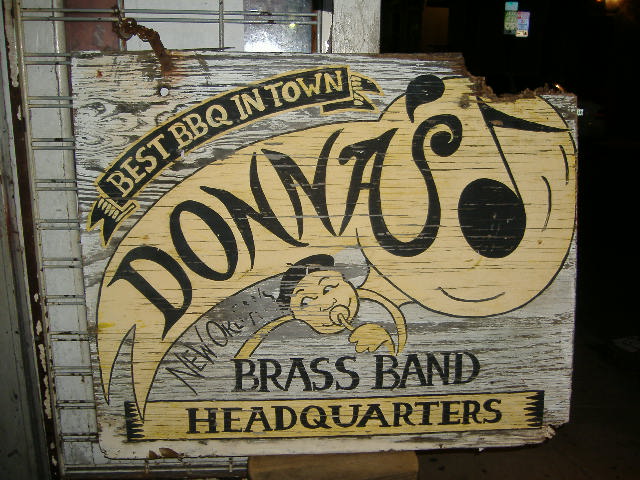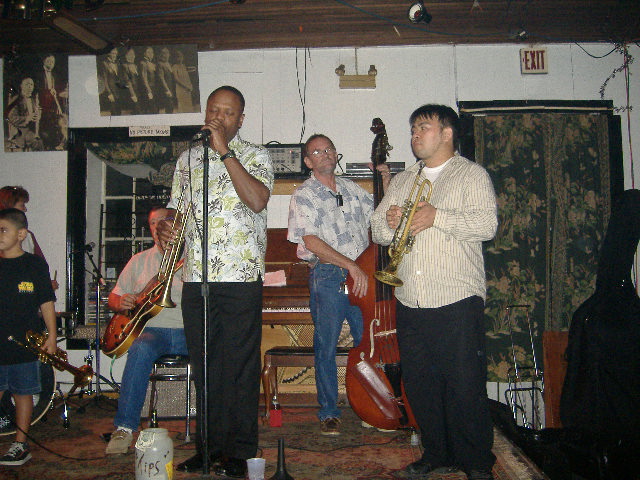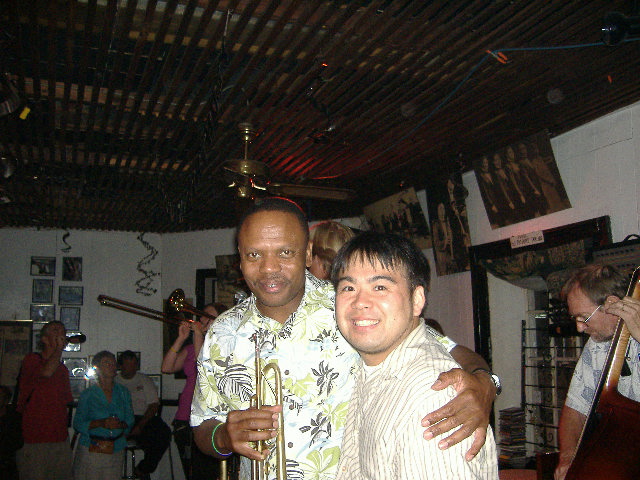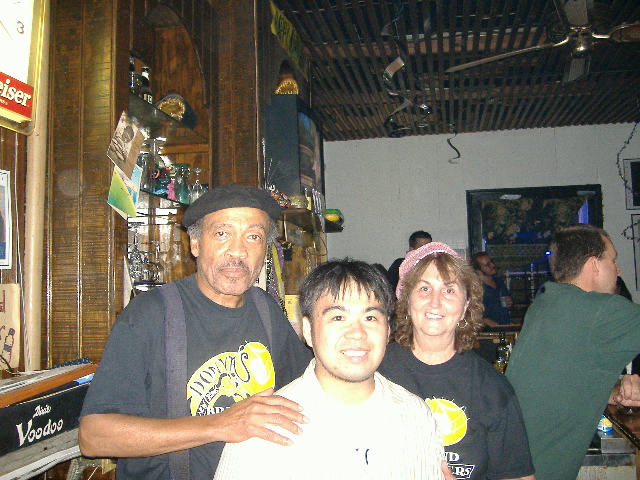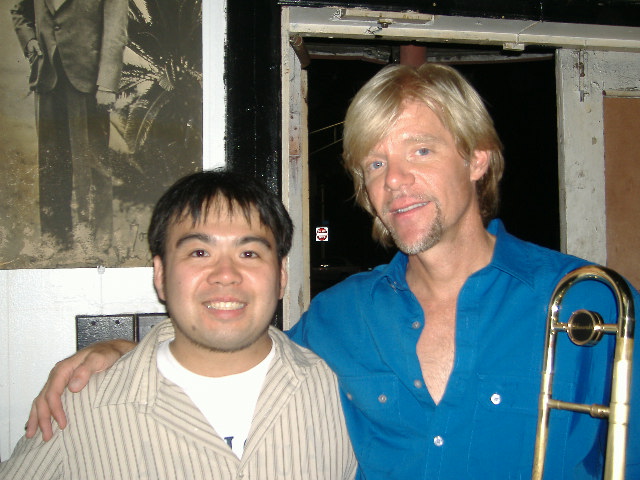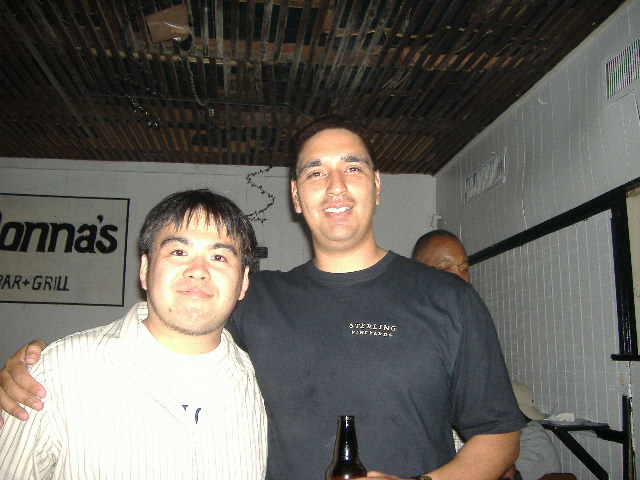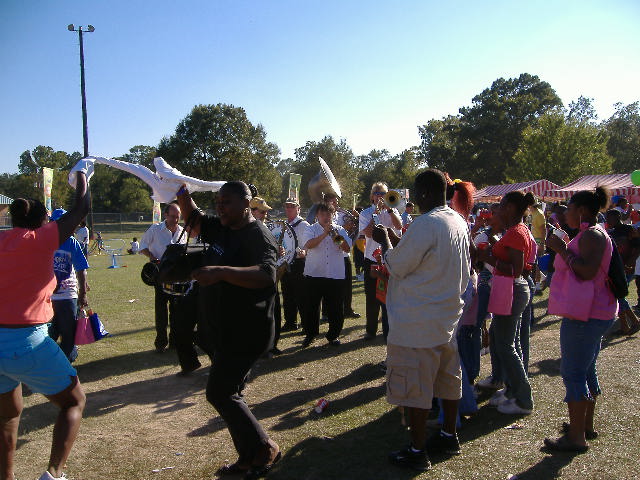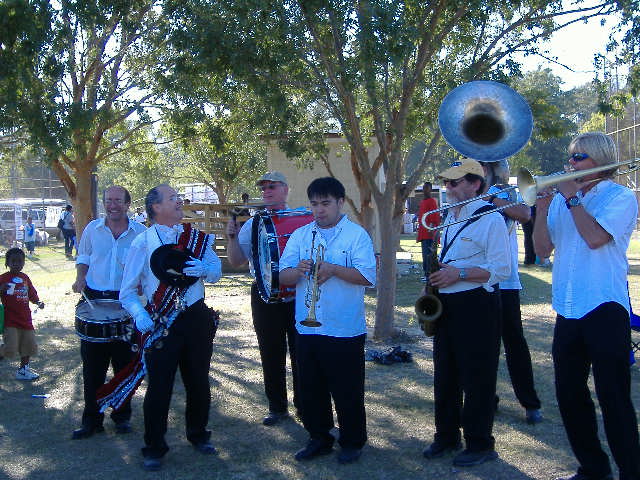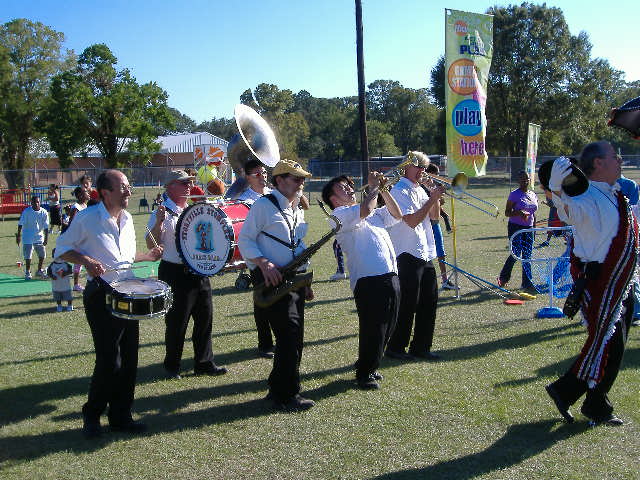 The following is the pics which show the one of few lucky things I found in my rooms after I came back to NOLA 40 days after Katrina. I didn't remember how I did it but I seemed to put so many stuff on my bed right before my evacuation. And I totally forgot it has air matress!!! See the water line on the wall ! It was higher than the bed!!! Yes, this matress was flowting during flood and saved some of my CD booklets & my original compositions. Thanks God!!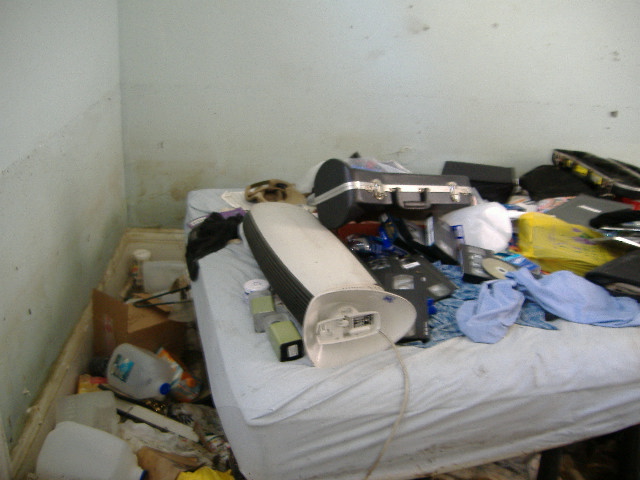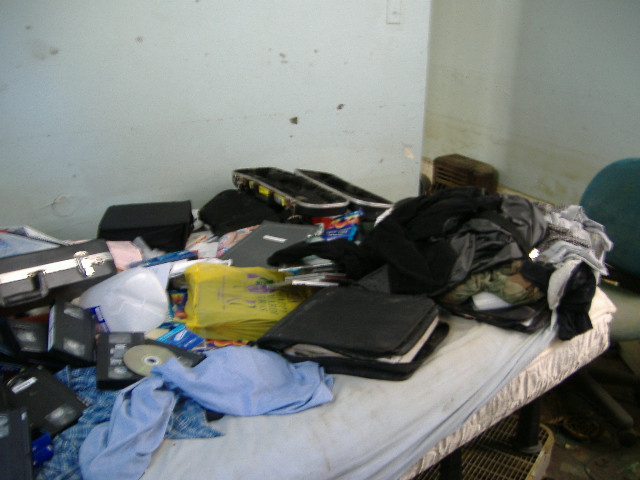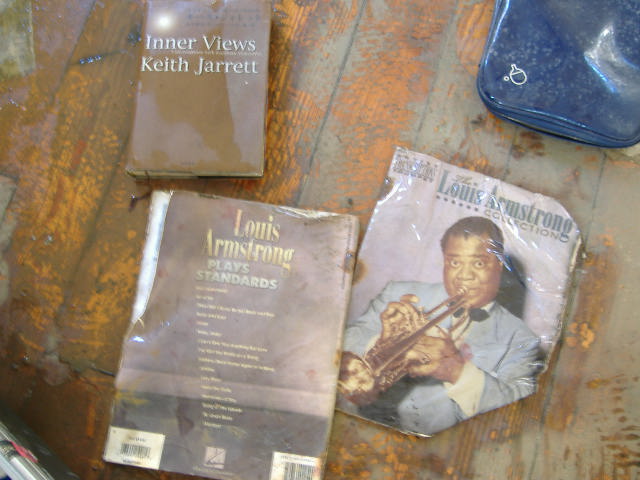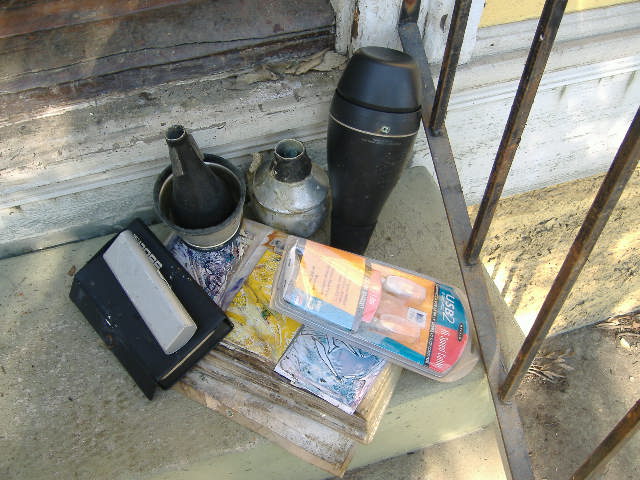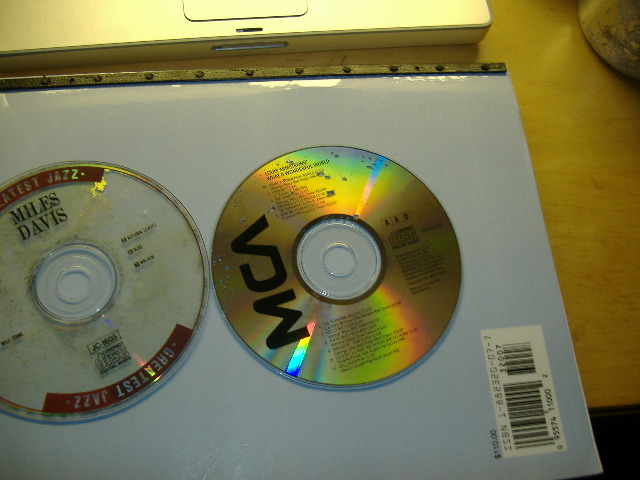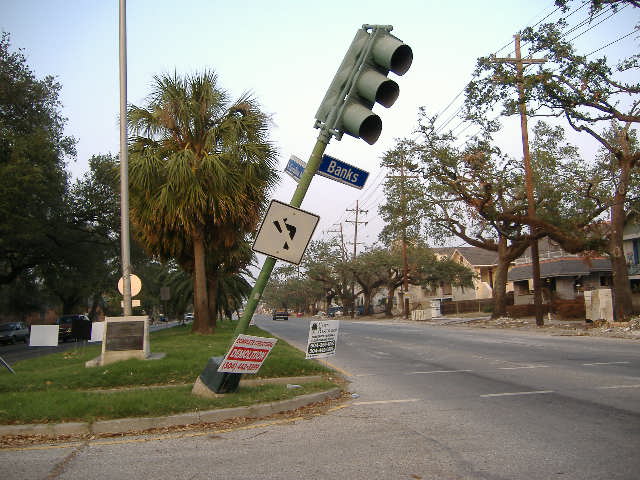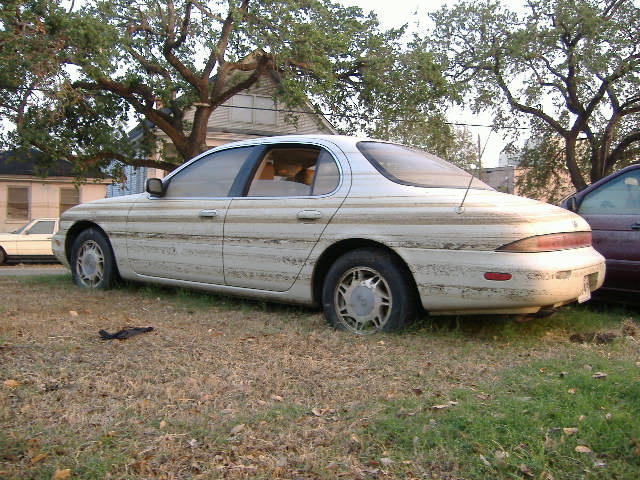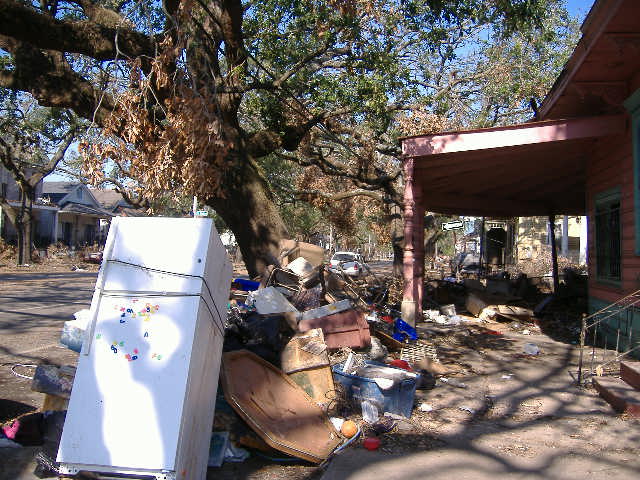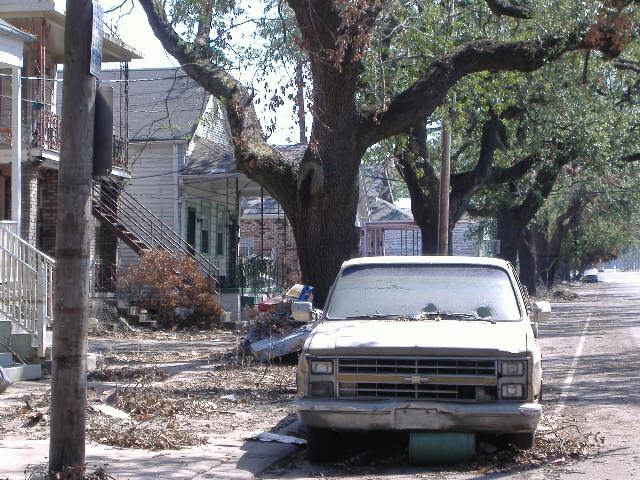 When I started Juilliard, I was already 2 weeks behind and think about it. I supposed to be in New Orleans at that time, means kind of layed back, slow and a little bid easy going. NY is totaly opposite. And At that time I had no idea about what's going on my home in New Orleans!!! I have to catch up school stuff, but......I need to know the damages in my place. And here is that.
僕が避難所を去ってジュリアード音楽院に行く事になった時、実はそれは学校が始まってから既に2週間遅れでした。本当はハリケーンが無ければニューオリンズにいるはずの男、つまりその意味は、一種レイドバックした、ゆっくりで、お気楽な奴、それが僕の姿だったはずなんです!!!それがここNYにいると、そうはさせてくれない空気があるんですよ。それと、その時の大問題は、ニューオリンズの家がどれぐらいの被害にあっているのか全く分からないまま、何週間も学生として過ごしていた事(暫く街が閉鎖だったから)。何せ、自分の滞米10年間の思い出の品々がどうなっているのかも分からず他の事をするってのは...他のニューオリンズ避難生活者と同様凄いストレスでした。しかも4年間単にミュージシャンだった男が勤勉な学生に逆戻り??遅れた分授業に着いて行くのもキツかったし、一軒家に一人暮らしから、寮で相部屋暮らし....凄い変わり様です。そう、やっとニューオリンズの自分のエリアに入れる許可が国から下りた時、僕はなんとしても被害状況を知りたかったんです。飛んで行きました"我が家"に。そして、これらの写真がその様子です。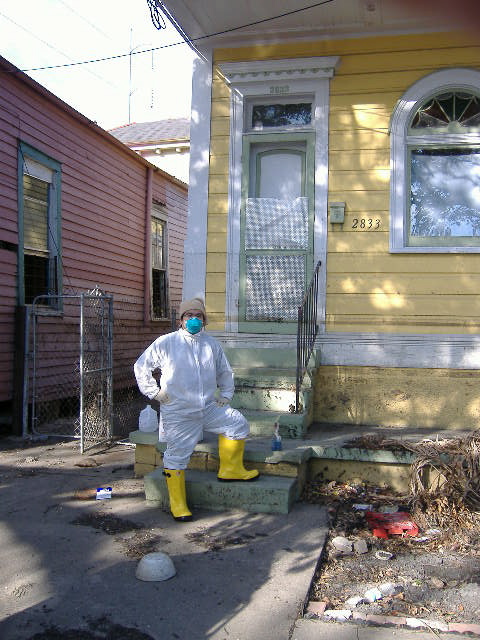 まず、この格好を見て下さい!笑わない様に!(笑)こうまでしてもまだ臭いのなんの!!っていう汚臭と明らかにバイキンだらけの空気でした。草木も全て枯れてます。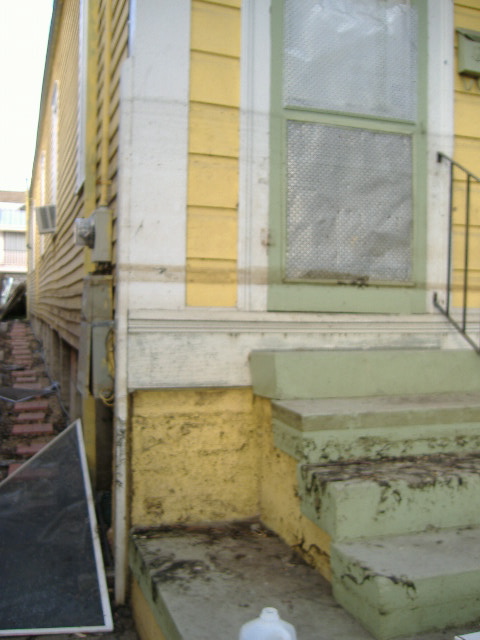 で、寄って見ますと汚水の線が見えます。あと、家と家の間の金網のドアの錠が壊れたかこじ開けられたかして無くなっていました。ラインはドアの中程まで来てますね。これは実は...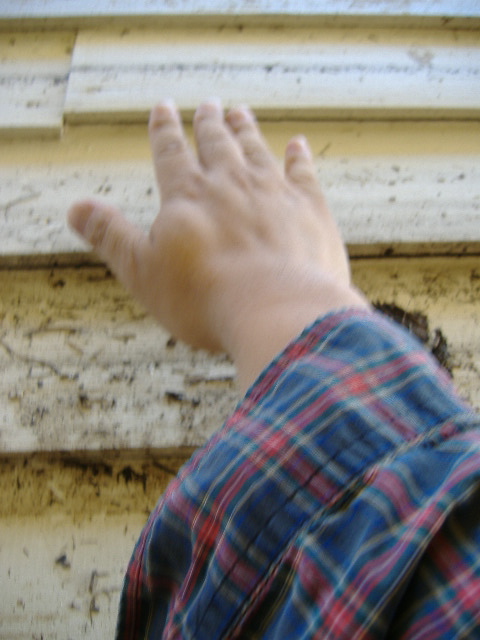 こんなに高いんです。手を伸ばして更にその上って事は2メートルは有に超えてます。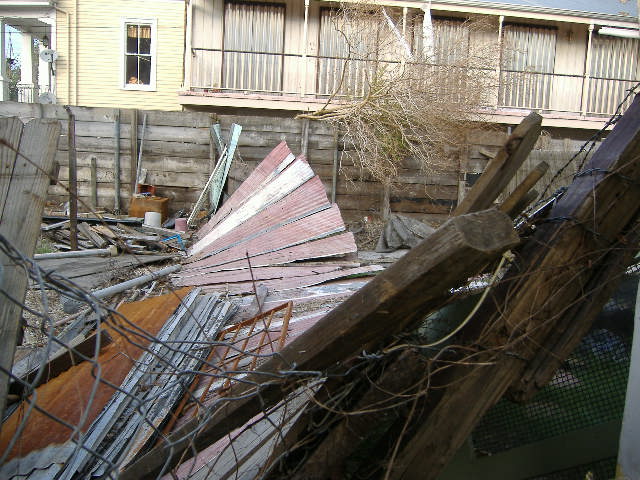 はい、バックヤードのフェンスは全て横倒しでした。しかしちょっと倒れ過ぎだと思いません?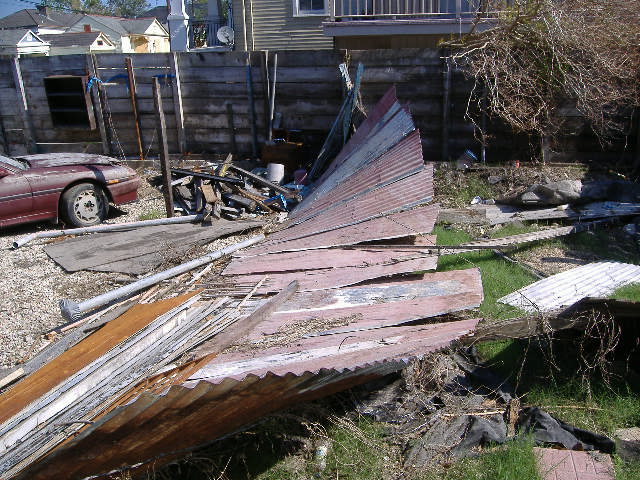 隣の庭の置いて行ったままの車に付いている汚水のマークも痛々しい。このすぐ脇のうちの裏口、実はドアが開いていたんです。気が動転してて写真を撮るのを忘れてたんですが、フェンスの倒れ方は明らかに人の歩いた跡な気がします。そうなんです、実はうちは泥棒に入られていたんです(涙)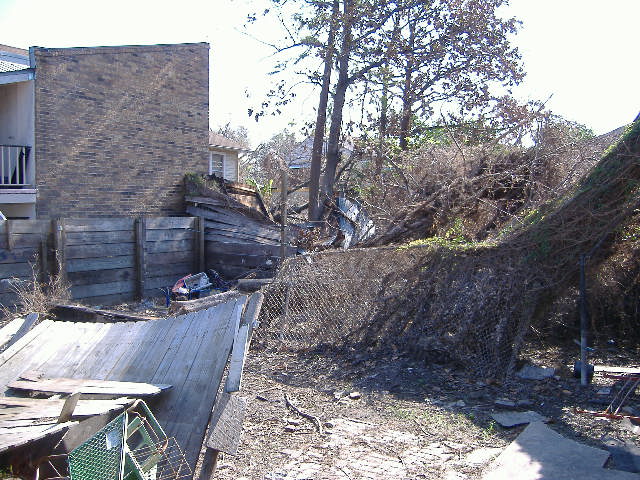 反対側のフェンスもこの通り。そして1つ向こうの隣家には折れた木が...。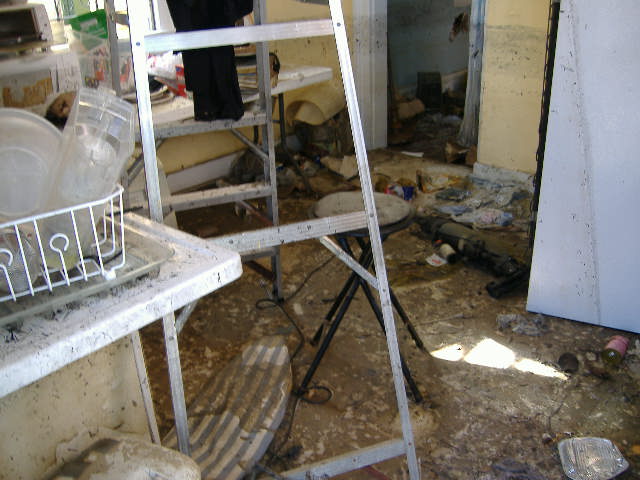 はい。裏口入ってすぐが台所でした。電球を取り替える為の脚立が出しっぱでしたね。あと冷蔵庫はもう起こしてますけど、実は横に倒れてました。汚水で浮いたらしいです。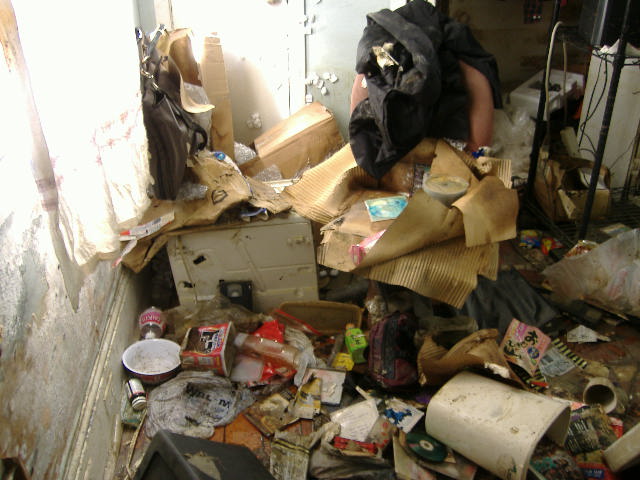 で、これがなんとベッドルームの一角です。捨てる前のゴミ箱とか袋の中のゴミが散らばってしまっていて最悪です。元々汚かったんちゃう?それもありますが(笑)イスの上にあるのはスーツですね。しばらく分かりませんでしたが。掃除がどれぐらい大変だったか想像して頂けますか?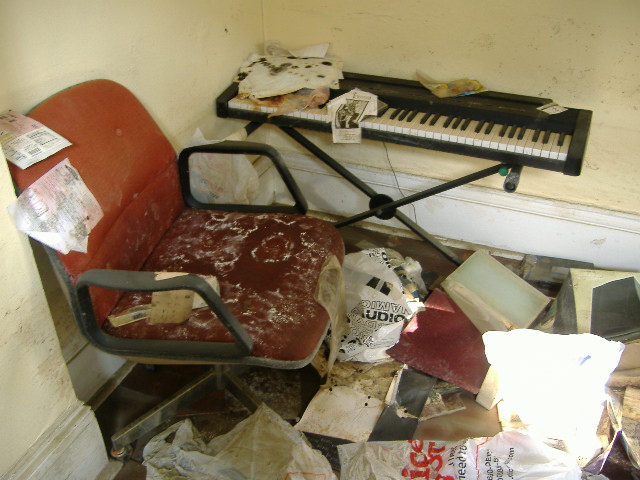 練習用の部屋にあったキーボード。鍵盤押しても固まって下がりませんでした(涙)イスはまだグチグチ濡れててカビがキツかったです。来た時期がマシだったのか思った程のカビではありませんでしたが、もちろん全部廃棄です。一軒家で5部屋あるとこの手の掃除はホント地獄ですよ!しかも捨てるのが自分の大事な物だったりするとね。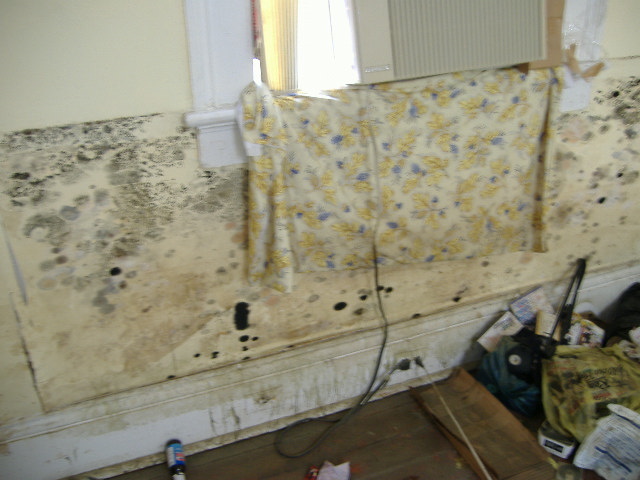 エアコンの下にカビ前線!一週間遅れて来てたらこれが全面を覆い尽くしていたのではないでしょうか?風通しが良すぎて冬が寒い家だったけど、その通気性が不幸中の幸いだったのかも。でも、窓もドアも水分吸って大きくなって、開けるのに一苦労でした。バールとかハンマー使ったぐらい。で開くまでの部屋の空気って言ったら病気になりそうな感じ。実際この後3日間のどと頭痛かったっすもん。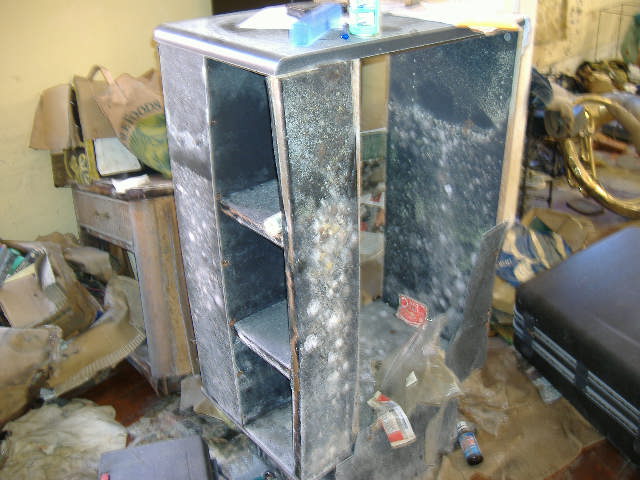 ハリケーンの数日前に知り合いから頂いたCD&オーディオラックです。どこに置くか決めかねて通路に置いてましたが無惨です。奥にスーザフォンが...もうもちろん使えません。横にはスーツケースが...この中に日本から持ち帰った物をたくさん置きっぱなしにしてたまんまでした。すぐ片付けろよ、俺!そうしたら何か助かったのかも...もちろんケースごと捨てました。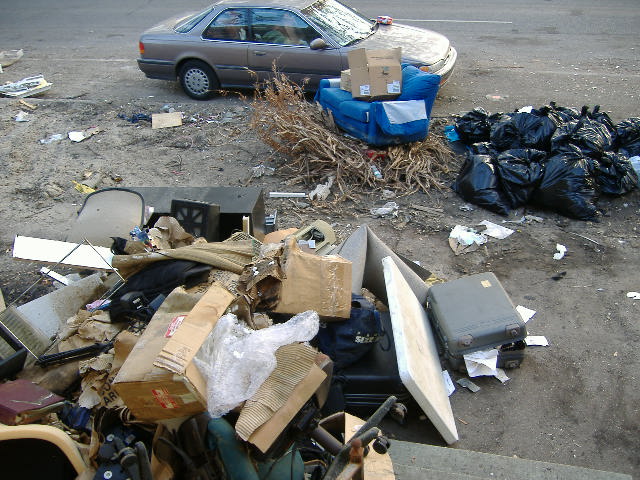 玄関の外の光景です。奥にある青いソファーは実は功労者です。水害の中浮いていたらしく(そうなんすよ!軽くて移動が楽だったから買ったんですけど、材質が弱いから使えね〜!とか思ってたんですけど、まさかこんな形で役に立つとは!!!)乗せてあった大きな段ボール箱が助かりました。しかし、逃げる直前に無意識に乗せた俺はエラい!!「アーバン」などの大事な音楽系の楽譜の半分が助かり、買い替えずに済みました。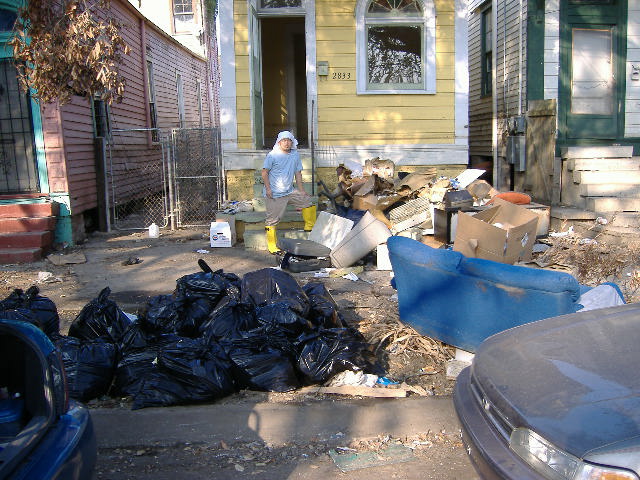 汗もかき仕事も一段落付いてのショットです。この後ゴミはもっと出てきます。どうせなら「こんなに捨てました」って全部捨ててから撮れば良かったかなぁ?あいだに具合が悪くなったのもあって1週間以上10日ぐらいかけてやっと片付ける事が出来ました。手伝ってくれた落合さんと大家のジェームスどうもありがとう。しかし、草木ホントに枯れてるなぁ。そうそう、ラッパのマウスピースが見つからなくて手前の黒のポリ袋を一個一個開けて探したのは厳しかった。匂い的にも気持ちの惨めさ的にも。
結局持ち物の8割は駄目になったんじゃないでしょうか。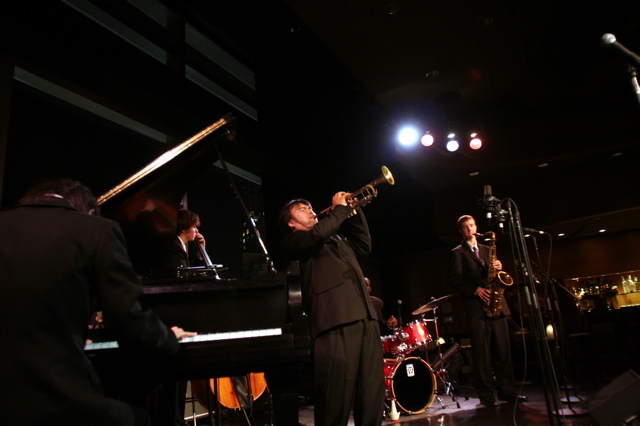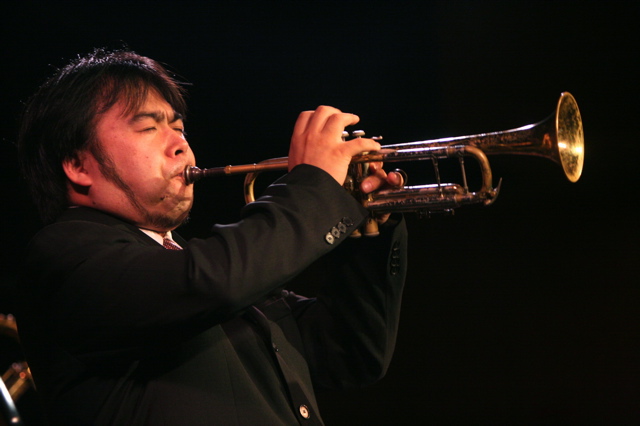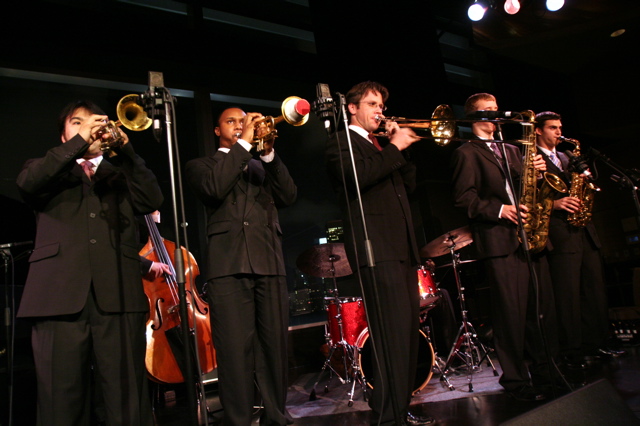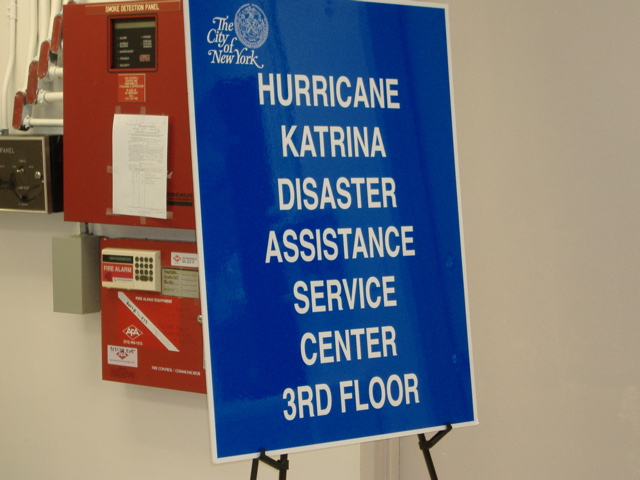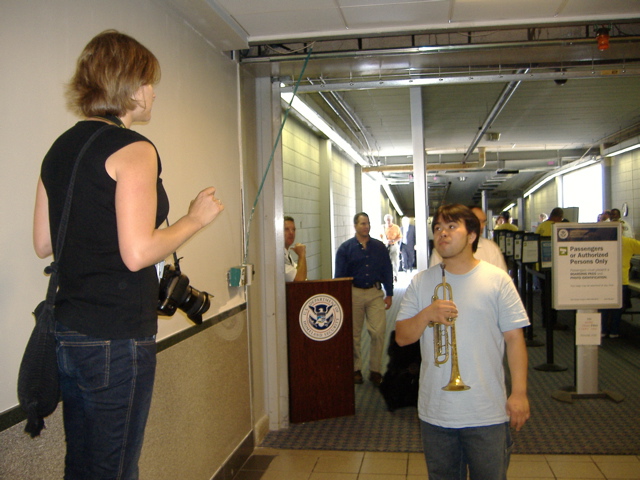 That was the photo session for New York Times @ Jackson Airport, Mississippi on 09/15/05. I got a interview from Mr. Dan Wakin from New York Times about Hurricane & Juilliard thing over the phone. The interview was happening on the way to Jackson airport. I was in the Mari's car which Mr. Roger Lewis was driving toward to Jackson from Vicksburg. Roger & Mari went to buy kennel for their dog and I asked them to drop me off at airport. While waiting for thier shopping, I noticed somebody left a message to my cell phone with wierd # and that was from Dan. He imideately sent a photographer to the airport after my interview.
I got a fortune cookie in the air plane and said "This is your day make a difference." I was like "Unbelievable!!" I'm keeping it in my wallet.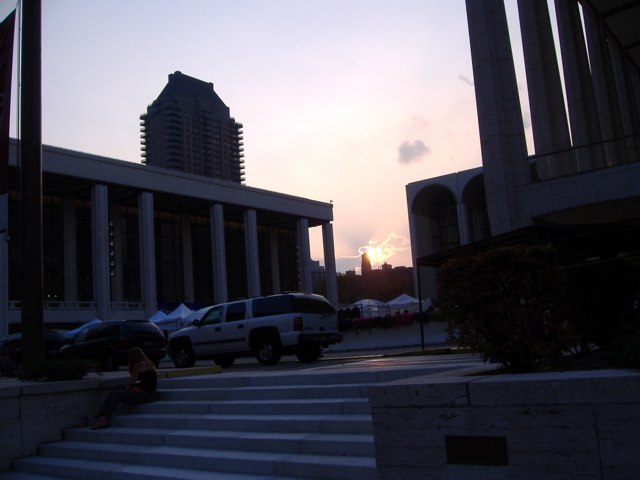 Lincoln Center Plaza
I got the Laguadia airport on 09/16/05 after midnight. Airplane was delayed because of stormy weather. I stayed in my friend's house in Queens. I went to Juilliard next day. This picture is Lincoln Center Plaza. Please scroll down and check my other pics on July 2005. I was there to perform for the event, Mid-summer Night Swing with New Orleans Nightcrawlers Brass Band. I NEVER EVER thought that I have to come back to the same place that soon!!! Now I'm staying in Juilliard's dorm. I can see where I performed in July from my room. Life is funny.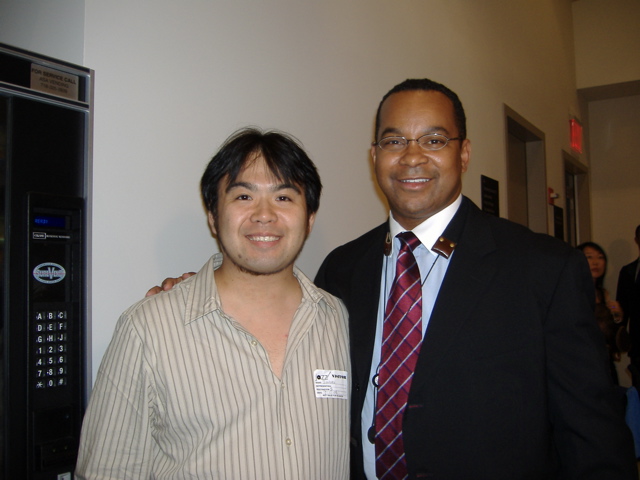 Me & Victor Goines @ backstage of Rose Hall Theater, Jazz@Lincoln Center
Another funny thing happened on Saturday. I supposed to hang out with my old friends from Boston. I saw one familier face at where me & my friends met. "I know he is from New Orleans!!" He brought his guitar and amp for letting Detroit Brooks, who is guitar player of Preservation Hall Jazz Band and lost his guitar during the Hurricane, use them for the show tonight. I helped to bring his equipment to the show. That was Katrina Benefit Event in Jazz@Lincoln Center. I was in the side of the stage and was watching the whole show. I saw so many famous musicians and movie acters. I surprised when I introduced myself to some of them and then they knows me already. My New York Times article was on the paper in that morning.
This is the picture me & Mr.Victor Goines from Lincoln Center Jazz Orchestra and Juilliard Jazz. He is the one picked me up from the chaos.
By the way, here is the New York Times article came out that morning.
------------------------------------------
Voices From the Storm
Far From Home, He Hit Just the Right Note
By DANIEL J. WAKIN
Published: September 17, 2005
The telephone receiver lay on a desk. A 7-year-old girl, daughter of the pianist, twirled about. Satoru Ohashi was playing his horn: Several choruses of "Struttin' With Some Barbecue." Then a ballad, "I Can't Get Started." Finally, some chord changes from "I Got Rhythm."
---------------------------------------
(Picture here)
Kate Medley for The New York Times
Satoru Ohashi of New Orleans will attend the Juilliard School.
Related More Voices From the Storm
Hurricane Katrina
------------------------------------------------------
He got the gig.
The gig is in New York, where Mr. Ohashi arrived yesterday morning, ending his journey from New Orleans jazz trumpeter to graduate student at the Juilliard Institute for Jazz Studies.
Listening on the other end of that telephone line last Sunday was Victor L. Goines, the program's artistic director and New Orleans native, who for obvious reasons was auditioning Mr. Ohashi at long distance. The next day, the trumpeter got the word: he was accepted into the institute's tuition-free professional training program.
"I totally kind of lost my mind or something," said Mr. Ohashi, 34. "I was like, 'Wow, wow!' I never dreamed this kind of thing would happen."
Mr. Ohashi's trip began with his evacuation the day before Hurricane Katrina struck the Gulf Coast, but the odyssey really started in his native Japan. While studying Japanese literature at Hosei University in the early 1990's, he took up jazz seriously and blossomed, playing in a semiprofessional student orchestra with some success. He attended the Berklee College of Music in Boston from 1997 to 2001, and took himself to New Orleans to practice his craft.
There, he sat in with bands and jazz orchestras and won a position, which was to start this month, with the Louis Armstrong Jazz Quintet, a graduate program at the University of New Orleans. With the hurricane's approach, he fled with a jazz pianist friend, Mari Watanabe, and her 7-year-old daughter, Maya, driving to the home of an acquaintance in Vicksburg, Miss.
"I didn't pack anything, just my ax - my trumpet - and my passport and a sleeping bag," he said.
His ax is a Bach Stradivarius, and he also took a vintage 1964 instrument. But two other trumpets, a piccolo trumpet, a flugelhorn, a borrowed sousaphone, thousands of CD's, photographs and videotapes remained at his New Orleans home, in the Mid-City section, their fate uncertain.
A faculty member at the University of New Orleans who is a former colleague of Mr. Goines alerted Mr. Ohashi to a trumpet opening at Juilliard, which led to the audition at the Vicksburg house, with dancing by Maya.
"That was an audition that was not too fierce," Mr. Ohashi said. "It was a very happy atmosphere."
Mr. Ohashi said his chops were weak after the enforced layoff. He also forgot to bring valve oil.
"My horn got stuck," he said. "I had to look for a music store in Vicksburg. Fortunately I found one.
"So I am lucky."
DANIEL J. WAKIN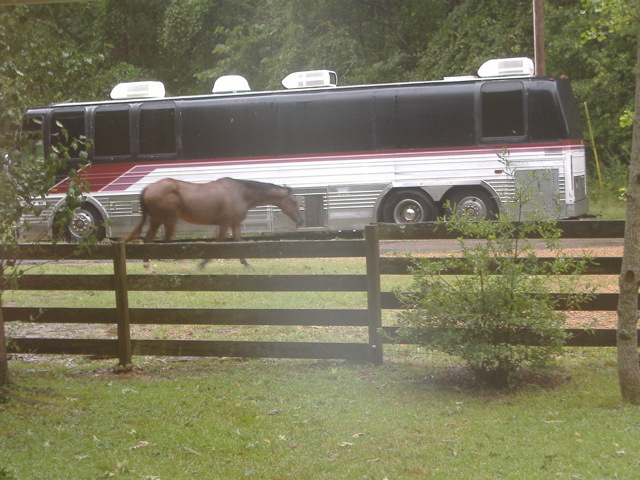 It was taken from Mr.Patrick's house where me & Mari Watanabe & Maya evacuated, mountain side of Vicksburg, Mississippi right before the Hurricane hit. We evacuated to there one day before the hit. We went to the shelter first, and then Mr. Patrick came to there for picking us up. We moved to his house that night. There was almost no light, I didn't know what was going on there. Then surprised about the location next morning. There are horses, beautiful birds and beautiful nature. Thanks, Mr.Patrick!!
この写真はまりさんとマヤちゃんと一緒にハリケーンが上陸する前に避難したパトリックさんの家、ミシシッピ州ビックスバーグ、から撮りました。我々は上陸の前日に逃げ、12時間に渡る運転の末、まずビックスバーグのシェルター(避難所)にたどり着きました。その後まりさんの旦那様ロジャールイス氏がダーティーダズンブラスバンドのツアーで使うツアーバスの会社をやってるパトリック氏が我々を迎えに来てくれて、その夜、ライトも無いようなアップ&ダウンの山道をひたすら付いて行き彼の家に案内されました。何がどうなっているのか分かりませんでしたが、次の日目を覚まし、その豊かな自然に囲まれた環境に驚きました!家の前で馬は何頭も放牧され、裏には大きな沼があり、見た事も無いような奇麗な鳥がいたり、ある日は鹿もいました。何はともあれ、パトリックさんどうもありがとうございました。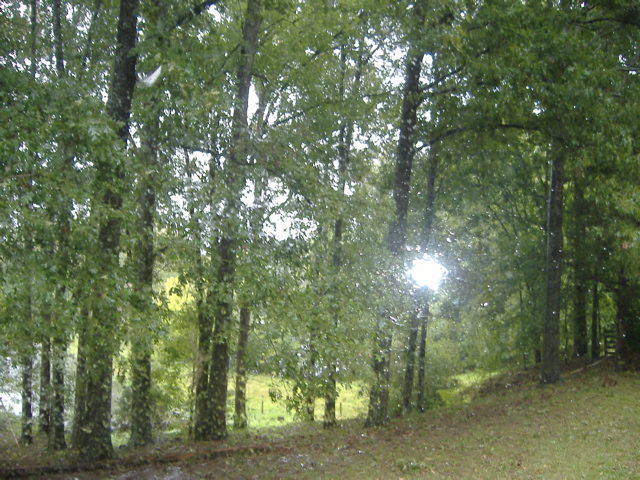 I think it was taken during the Hurricane storm. You can see water on the window. I wished I could visit there for vacation. But that was the evacuation....First, we didn't have electricity for over a week and no gas for four days too. Addition to that, almost no signal for my cell phone for almost a week. Mr. Patrick started using the generator of the bus. Then we finaly could wacth the news and found the disaster in New Orleans. I shocked a loooot!!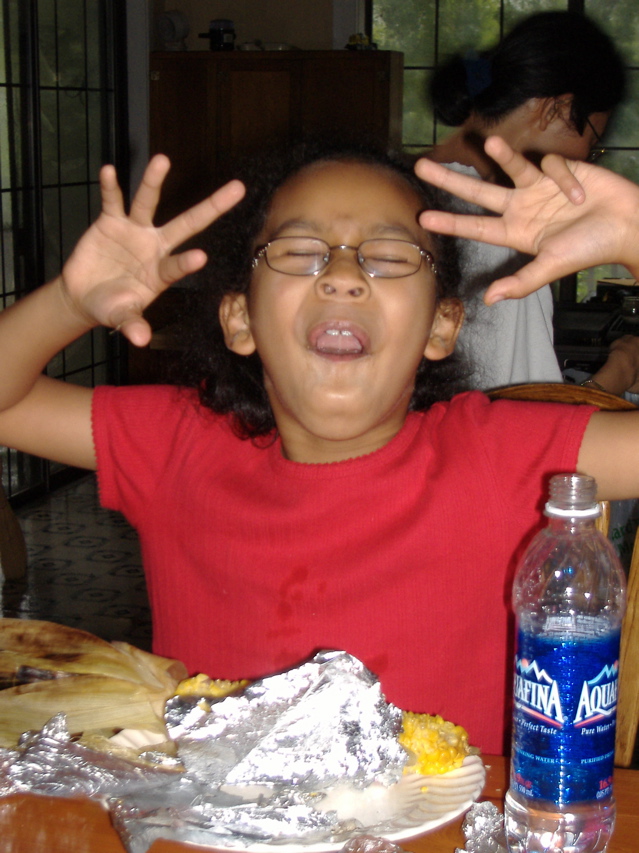 Maya Lewis & Mari Watanabe. Me & Maya did Karate, Taichi and musical thing together almost everyday at that time. That was fun. She is my best friend there. Thanks Maya!!
After I found I have to look for other school to transfer to keep my visa status, I was calling over 30 schools all over U.S. and E-mail friends to ask about it. Since then, I went to public library almost everyday to use their computer. But there were too many evacuee from New Orleans and Mississippi waiting to use it. We have to stop using it every 30 minutes and make a line again. I was praying every day. I didn't want to waiste time in there and do nothing for a couple of month until New Orleans come back.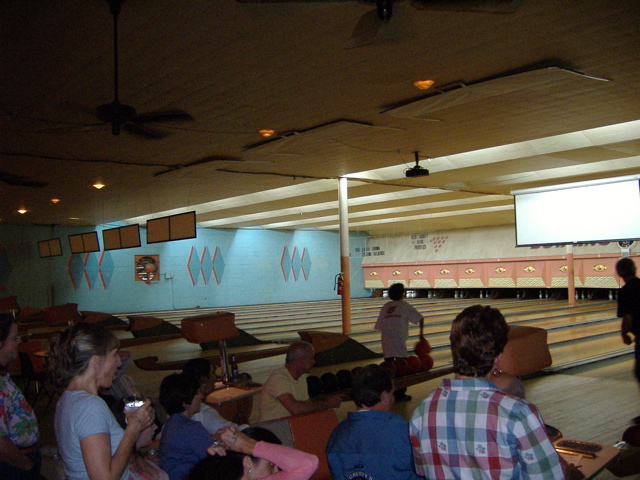 That was taken on 08/19/05, 10 days before the Hurricane hit and was a part of University of New Orleans thing. I came back to New Orleans to be on a meeting on 08/15/05 for Louis Armstrong Quintet after unbelievably hectic schedule in Japan. The schedule and stress through visa apllication was really tough. And a couple of days after the meeting, Music department and Drama department had a bowling competition on 08/19/05 for getting know everybody. I was like "What? I came through hard schedule to do this?" Just kidding!! I came home earlier and went to see Nicholas Payton's show @ Snug Harbor that night.
Then I found UNO asking Mr. Payton to be a trumpet instructor in UNO on Monday during my Bob French's gig. I was so excited. The school told me when he come back from Japan tour on next monday he will tell he will do or not. Actually, that Monday is the day Hurricane hit in New Orleans. I've read Nicholas's house also flooded and feel really sorry for him. "IF" Hurricane didn't hit, I studied with him and kept working with Bob French's group and stayed playing with UNO's Louis Armstrong Quintet, what could have happened to me now????? I don't know......supposed to be really good......
これはニューオリンズ大学のレクレーションの一環でした。8月15日にあるルイアームストロングクィンテットのメンバーのミーティングに向けて、し烈なヴィザチェンジのハードスケジュールを経てわざわざ帰国した俺だったので、音楽部対ドラマ部対抗ボーリング大会(8月19日)ってな催し物に拍子抜けしてしまい、早抜けをしてスナッグハーバーのニコラスペイトンを見に行ったのを覚えています。その次の月曜のダナズのギグでUNOがニコラスペイトンにトランペットのインストラクターを要請をしていると聞いて心が躍ったのも懐かしい。その週にレジストをした俺に学校側は「ニコラスは月曜に日本ツアーから帰ってくるからその時に返事が貰えるはず」と伝える。その帰ってくる月曜というのが「あの」カトリーナの上陸した日だったのです。ニコラスご本人も被災されたらしく本当にやりきれない想いです。「もし」や「たら、れば」を言うと、もしあのままハリケーンが来ないでニューオリンズでニコラスに習いつつ、ボブフレンチとのお仕事を続け、ルイアームストロングクインテットの活動を続けていたらどうなっていたんだろう?複雑です。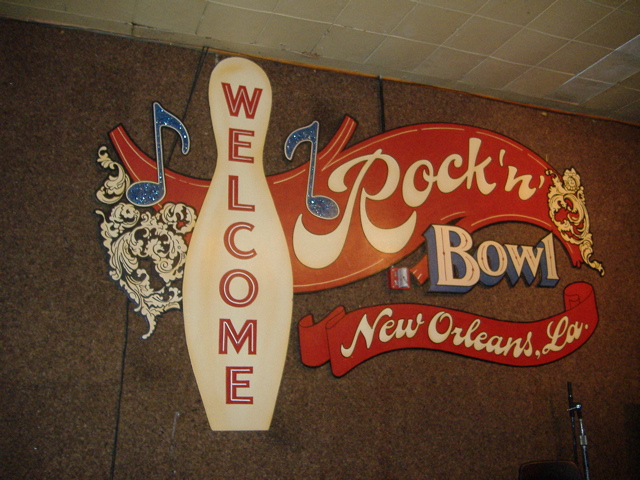 This is the famous logo of Rockn' Bowl mid city lane. It used to be my neighter. I drove in front of this building all the time. 今では懐かしのロックンボウルのロゴ。かつては近所、しょっちゅう前の通りを車で流してました。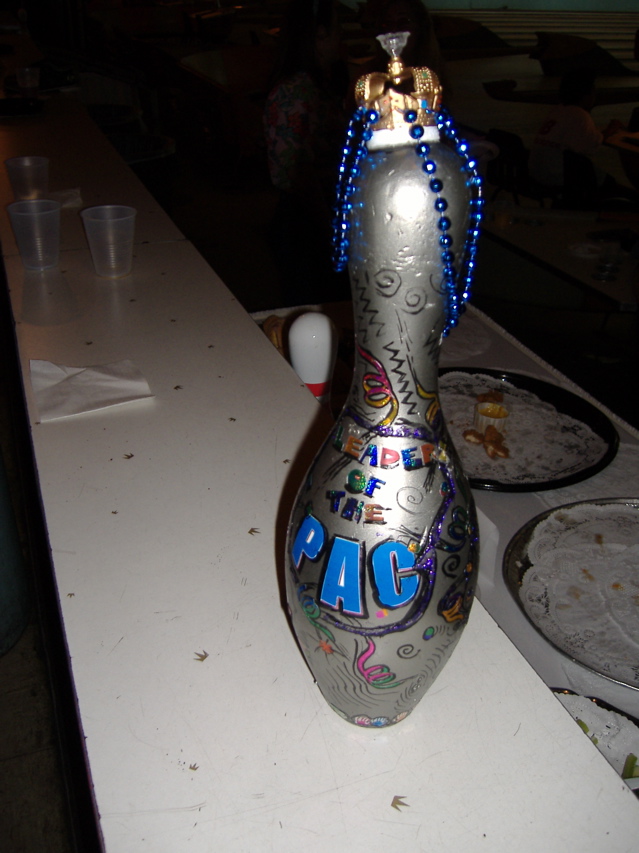 That is the trophy UNO music department won through the bowling competiton. This is also good memory from New Orleans days. これが音楽部が勝って手にしたトロフィーです。今思うと呑気なUNOの雰囲気も懐かしいです。これもハリケーン前の良き思い出の一つです。